Dear President Noynoy, stay in Malacanang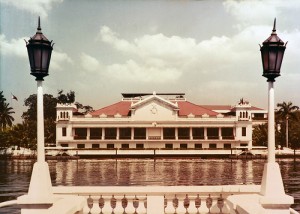 Dear Mr. President,
I hope you're doing fine upon receiving this letter of mine
. If you want to stay in Makati, we know there's one in here. P15,000 unfurnished. And, P25,000 fully furnished. But wait, if you'll rent say a QC condo (P100,000 to P200,000 rent - you have to house with you, your whole crew - cook - PA - some executive staff - driver - etc.) and shuttle back and forth your
wang-wang
equipped 25-big-black-Expedition-convoy (45 pesos a liter times 25 vehicles times 10 kilometers) to and from Malacanang, is not that another government expense to add up? Why not live in Malacanang compound or at nearby Arlegui residence?
Don't forget, you/we have to pay
Liz Uy
too.
If you promised during the campaign that you intend to change the culture of the whole wide Philippines to something that is more decent, don't you think changing your perceived ugly vibe in Malacanang and Arlegui residence is easier? Yes, you can. (Oops, the
Arelgui Mansion is being rented
, it's not a government property as I earlier thought so.)
It starts with you Mr. President, and it starts with little things. If you can re-energize Malacanang, your supposed home for the next 6 years, with positivity then you can move on with greater tasks, like, rebuilding the nation.
Still, the Makati condo is available though. 10% discount for you coz you're the President of the republic. And by the way, my whole family, they voted for you. I did not vote last May 10 coz I felt something different in the precinct/room where I am registered. I didn't feel a good vibe in the room when I pre-visited the place a day before the election.
All the best and please give my warmest regards to Ms. Shalani.
*Photo from here.
Labels: malacanang, noynoy aquino