Book Antik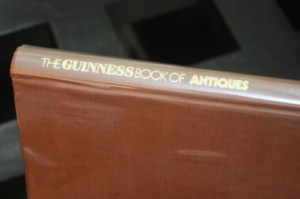 FOREWORD: There is a complicated cross-roads between the ways of Aesthetics and Craftsmanship and History and Commerce with a by-lane from Aesthetics into the meanderings of Taste and another into the Domestic Convenience of tea cups or chairs. These cross-roads are bewildering and can lead into the lost of directions of false aesthetics values or misspent cash, or on over the stepping stones of skillful repairs or reproductions into the morass of dishonest faking, forging, or selling. Who could better guide at such a bewildering junction than John FitzMaurice Mills whose articles in the press and books on such subjects, whose television appearances and radio talks and whose Guinness Book of Art Facts and Feats have already given so much enlightenment, interest and pleasure.
Copyright of this book is 1979. This book is also an "antique"!
After going thru some pages of the book, makes us wanting to rename our "ANTIQUE COLLECTION" to something more appropriate. The purist will definitely say, hey Leoque! those are not antiques!
For one to be an antique, it should be combination of the characteristics… super rare, a thing beauty, precious, has historical background perhaps, some feats were involved in the making of the arts, crafts and furniture. Via this book, I found out that some "antique experts" or purists even defined the time boundary for one piece to be considered an antique. That is, 1850 and earlier. Hooooo, that makes some of our "antique" pieces like they are fresh as a baby!
OK, we used the word antique loosely. What then is better? vintage collection, vintage stuff… or old items.
But time flows. Eventually, all things age. In fact, from this same book, it notes… The "bounding time" of 1850 eventually grew old. It became, 1910's, then 1940's pieces were considered antiques too. Even post World War 2 pieces are considered to be antique. Thus, "modern antiques" class is born.
(With the book written 1979) So likely by now, the antique period moved to 60s eh? Which means, if you're holding to a piece, like a Beatles Vinyl Record, that's a freaking antique if you'll ask me. Only, I am not one of the purists.