Nudes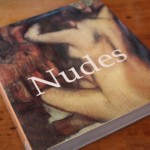 Another book inside Leoque. A mega square book, title is "Nudes." And there's no denying the title. Over 250 pages of tasteful nakedness & nudity of different mediums and art forms (sculpture and painting). These books we got serve triple-purpose. First we leoque look at these books and somehow make push us and inspire us to be more creative and imaginative with both design and photography. And second use is, we use the books as props when shooting storage furniture, side tables, coffee table, bookshelves, etc. Third, we collect/buy these art & trade books to beef up our soon-to-be-made home or office library.
Some sample pages below…
Surprise… surprise… value of this book over at Biblio.com is 97USD.
Labels: art. books, nudes