Bandila na Sinala (Filtered Flag)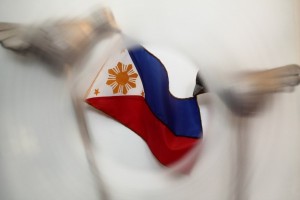 This photo, titled "FREE AS A BIRD," won a mini photo contest run by our photography mentor. I attended a 3 day seminar then got to be in this/our mini "alumni" social site group. Props used are flag I bought at a Roxas Blvd stoplight intersection (during the June 12th Philippine Independence Day) and the wooden birds are from here. The theme of the constest is DIY filter.
Using day-to-day home items as filters. No commercial filter is allowed. I used a plastic cup with a hole as a filter. I earned a remote shutter FTW. The photo below also got good number of votes, same contest.
I'd like to thank our teacher for running the show & the peeps who voted for my entries. I thank my payrents too. =)
Seriously, thank-u-2-God.
Labels: contest, filter, ftw, photography