Celebrity Homes Philippines
This is our own version of celebrity home, oh well, not really celebrity homes but more of celebrity furniture buys from the Leoque Furniture.
Celebrity - Dominic Ochoa: We have no picture coz the damn camera won't open at the time of his visit. I was able to make the camera work exactly when Sir Dominic passed by me and said thanks & goodbye. Thanks Dominic BTW. Actually, it wasn't Dominic's buy, but 'twas her lovely wife who initiated the furniture purchase. They picked up (literally picked-up 'coz Dominic's got a smooth & slick pick-up truck) a computer table ladder type, an umbrella accent jar and a display easel. And what's with these celebrities? They are kinder, jollier & sweeter live in person. Thanks Ms. D… and Mr. D.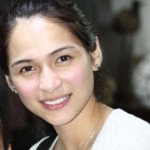 Celebrity - Jennylyn Mercado: She looked at this s-type side table then checked out the glass top stainless center table. She then decided to combine the two - - - the glass top and the s-type table. Thinking out of the box, she asked for the s-type to stand sideways or horizontally (not the actual orientation of the table) then she ask for the glass top to be placed on top, walah, a unique coffee table for her home. Jennylyn, definitely, an artist. And she's a nice polite sweet lady as well. Photo here is the actual pic of her inside our shop.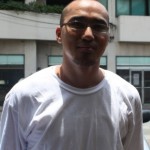 Celebrity - Mike Cortez: The minute I saw him, I knew he's a basketball player but I second guessed. You know why, coz he's taller & bigger in person than on TV or on court live. I've seen him live many times before and one time im just 5 - 10 feet away from him and he doesn't seem to be very tall. Well, may because he's surrounded by bigger guys like Pennisi & Jay Washington. Was able to confirm that he is he when I saw the furniture invoice, signed by his wife, a "Cortez." How nice can they get? It was his wife who volunteered to shoot the pic. Actual photo posted here. Many thanks for checking out Leoque Furniture. The items they got for they home: bean bags, ladder shelves wenge and 5ft panel for display.
NOTE: Many thanks to our dear Filipino-Filipina celebs for allowing Leoque furniture to grace your homes. If you feel like removing your name - the notes - your picture - "your buy" on this post, please contact us. We will remove the data or the whole post ASAP. We are proud that our furniture landed on celebrity homes but we respect your privacy more.
Labels: celebrity homes