Einstein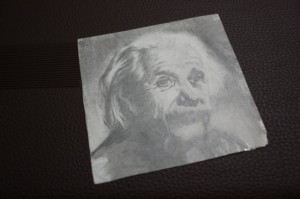 Made this sketch a long time ago. Quite possibly, Albert's still alive when I did this.
Pencil on "kopon bond". At school maybe.
Most of the time, I draw great minds, great men, great-at-what-they-do-guys (see
Beatles
) and so Einstein is a must-do for me. I have rough sketches and portraits of Michael Jordan, JFK, my Pop, Francis Magalona, the Eraserheads, John Lennon, Muhammad Ali, et al. I'll post em if I can find it inside the
baul
.